Stenter Machine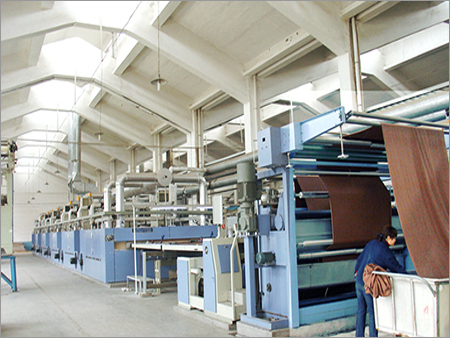 Product Details:
Supply Ability :

100 Set Per Year
Trade Information
Tianjin

100 Set Per Year

90 Days

Yes

Contact us for information regarding our sample policy

Nude packing . Outside is coverd with Plastic film . Fasten well by steel in the container

Asia, Australia, Central America, North America, South America, Eastern Europe, Africa

All India

ISO 9001CE
Product Description
The precisely designed hot air Stenter acts as a reliable machine for knitting and weaving of open width fabric. The GHLD2800 model of this textile machine is a perfect choice for fabrics like wool, cotton, hemp and polyester.


Machine Technical parameters:
Heat setting pattern :hot air circulation
Chains pattern :pitch 60mm,stainless steel chains.
Pin plate maximum working width : 2000mm-3000mm
Heating chamber width :3000mm/chamber
Mechanical speed : 5~80m/min
Power of some parts Padder:12.5kw
Gluing,cutting,sucking device :6.74 KW(optional)
Pneumatic edge spreader 3KW
Driven device 45 KW
Each chamber power 15.75kw
Machine dimension(Max) L=18000+3000mm/chamber*N chamber
W=2700+working width H=3000
Machine weight :about 12tons+4.5ton/chamberxN chamber
Machine color : jewelry blue + Crystal White
Insulated panel thickness :150mm
Machine working pattern : chains circulation horizontal rotary.
Main Features

Its infra-red centering controller is located in its infeeding side while its automatic centering executor is in slide style. This machine is acknowledged for its uninterrupted operation and quick response system. It is the perfect choice for speedy manoeuvre of fabrics. The low tension and friction rate of its centering roller surface helps to handle fabric surface sans any damage.
This machine consists of optional accessories like padder installed at the back of its infra-red center system. Its horizontal type sqeezing roller is useful for pneumatically releasing of squander liquid. The turning shafts located at the inner part of liquid trough have been fabricated by using standard grade stainless steel and these turning shafts come in handy for blending of paste at the interior of the liquid trough by using high pressure rubber roller. The prepared paste is spread over the fabric to ensure its even outer and inner surfaces. The pressure of its squeezing roller can be modified by altering the cylinder pressure. This process helps to drain out excess liquid present in fabrics. Featured with smooth rolling surface, the stainless steel made squeezing roller is coated with standard glue procured from America. Known for its even squeezing ratio, this squeezing roller has a stainless steel spreading shaft in its infeed section and it is controlled by a separate motor.
This machine's hand operated weft correct adjusting roller is instrumental in rectifying the screw weft after paste pressing process by rubber roller is over. I this stage, the direction of weft will be in parallel position. The working speed of this weft correct adjusting roller depends on the design of stenting rail.
The pneumatic spreader has a key role in making twisted edges of fabric flat prior to pin on (we also offer this machine with optional accessories like four fingers spreader or teeth plate spreader). Our precisely designed screw spreader utilize cutting edge technology and is known for its error free mechanism as well as minimal noise level.
Its infra-red auto edge detection and tracing section of this machine ensures fault free pin on of fabrics and controlling the pin width within the range of 10mm length. The feedback speed and functional accuracy of its executor can be adjusted. What is more, various types of fabrics can be utilized on various parameters.
The pin, overfeed, right side and left side of its wool brush wheel are controlled by separate motor which is driven by the inverter. After pin on and prior to the feeding in the heat setting chamber, the overfeeding rate is -20% +30%. The working speed of its active fabric supporting system is similar to the machine's speed and this same speed helps to maintain standard grade of the fabric.
The machine's left and right stenting frames is regulated by individual inverter motor and the speed of these frames varies to some extent. Their working speed is in sync with the speed of straighter in order to rectify the weft. The equipment's thermal expansion section with automatic compensating system and pneumatically controlled actuator eliminates the necessity of hand operated adjustment and helps to save labor cost.
This machine is also available with fabric edge dryer; systems for sucking and cutting and gumming box as per the requirements of customers.
The frame of this machine is equipped with stainless steel steaming box that comprises of plastic mask at its front as well as in back part to inhibit steam so that the steam does not affect normal functioning of its edge inspector.
The heating chambers of this Stenter is warmed by thermal oil that maintains ambient temperature inside chambers and regulates their operation. The in built centrifugal blower of these heating chambers circulates hot air. The vapor exhaustion unit is located at the uppermost part of these chambers.
Its fabric exit section consists of cool air system that allows to modify its air volume.
This machine is equipped with exit plaiting system and advanced rolling unit with stable functioning.
The horizontally positioned frame of this machine is designed with steel made rail, manganese steel fabricated chains, pin with nickel plated surface,copper fabricated pin plate and alloy made slide path to name a few.
The fabrics are released by plaiting mode and this machine is known for its uninterrupted functioning.
Equipped with PLC program based operation, the speed of this machine is regulated by inverter and it is featured with human-computer interface facility.
The centrifugal blowers of this machine are arranged in staggered manner in each of its chamber in order to maintain even inside temperature. These blowers are effective in maintaining accuracy in temperature controlling function. Each chamber also consists of two centrifugal motors with individual air path. The air speed and air volume of the air path of this machine, therefore, can not be adjusted independently. So the operator of this machine can modify its air speed and volume as per the specific need.
Each of its heating chamber consists of one width adjusting system. The volume of adjustable width can be viewed. The adjustable motors of this machine can be regulated independently and their mechanism can be modified without hindering the function of this machine. This machine also consists of plait angle spacing system.
Its hot air releasing system gets activated after detection of its malfunction and ceasing of its operation. This hot air releasing system is useful for safeguarding the fabrics against damage caused by halting of machine due to high temperature. All its parts are pneumatic by nature and are known for their quick as well as uninterrupted operation.
Machine Structure

Infeed section
Head part
Horizontally stenting frame part
Hot air chamber unit
Cooling unit
Plaiter section
Pneumatic unit
Electric unit
Other Products in 'Stenter Machine' category
Get in touch with us